Pursuing the hiring process for an engineer is a process – recruiters need to follow up, provide feedback and keep in touch with engineers whom they wish to hire. Failure to establish connections via modes of media like Linkedin or connect potential hires with people within the organization can lead to losing out on a candidate. Besides, using social media channels can be beneficial to get in touch with candidates who do not actively engage with organizations or recruiters and are more passive in their approach.
The biggest hiring challenges we're all facing today, according to 15 hiring experts
Hiring today is very different than it was just 10 years ago, largely because we are in a candidate-driven market where job hunter expectations have a bigger impact on what hiring managers have to take into consideration. With that in mind, we thought it might be useful to get some insight into how today's job market looks like from a common challenge perspective. In other words – what's making life really difficult these days for human resource managers and hiring managers?
What was interesting was that all of the answers boiled down to five main hiring challenges. Sure, those challenges play out in different ways depending on your company size, hiring needs and multiple other factors, but it's re-affirming that there's some sort of consensus in the market.
Adapting to this new job market
"The biggest challenge in hiring today is that hiring managers do not behave as if they are in a candidate's market. Unemployment is low and it is harder to engage talented professionals for new job opportunities. On the flip side, hiring managers often require a lengthy interview process along with assessments for skills and personality. Assessments designed to reduce the burden on the interview process sometimes become additive instead. This is where the problem lies. Candidates are being asked to do more and more, but there is no scarcity of jobs to encourage them to participate in a more stringent process. Some candidates end up abandoning the process early. Others are hired by someone who realizes it is a candidate's market and moves more quickly to make them an offer. Because of this, recruiters are asked to find more and more candidates, yet they are still working in a limited market. It is a self-perpetuating cycle."
"The biggest challenge I'm facing right now is long lead times. Active candidates typically want a job NOW. In my own company, time-to-fill has gone from about one month to now two months. Keeping the best candidates engaged through this timeline is always tough. My advice? For candidates, always be looking. Never turn down an opportunity to interview because you never know when you'll need your next job. For recruiters, targeting passive candidates who already have a job is a great way to meet their needs and yours!"
Logistics
Challenges that fall under workplace issues include things like having access to a stable internet connection and a laptop or computer. If the nature of the job requires more equipment, this can also be a challenge depending on what your employees may or may not have at their disposal. Even having a decent workspace can be challenging for some employees, depending on their current living situations.
Resolving workplace issues will depend on how much you're willing to do. If you really want to hire someone because you think they would be worth the extra effort it would take to provide them with access to wifi and a computer, then you would probably not care too much about shouldering the extra cost. What most employers do is they include criteria such as access to a stable internet connection and a computer as requirements when hiring to eliminate the potential candidates who do not meet these conditions.
The second logistical challenge are the legal requirements attached to hiring remote employees. Things like paperwork, taxes, and benefits can quickly turn into a headache, especially if you're dealing with remote workers from different parts of the world.
Luckily, Professional Employer Organizations (PEOs) like Multiplier make complying with local labor laws and international payroll easy. You won't need to worry about establishing a local entity or have to figure out what the local labor laws require you to provide your employees with. Simply arrange everything you need with a click online, and Multiplier will take care of the rest.
Challenges faced by recruiters when hiring engineers
From addressing a specific shortage of skills to meeting requirements, hiring the right engineer for the role can be difficult. Even though the main challenges lie in scouting candidates and hiring the right engineers, there are many aspects to the hiring process, which are also a huge challenge.
1. The Right Fit for the Right Job
Engineers have various levels of specifications – from being developers to coders, different software engineers have different skills and technical certifications that allow them to carry out different functions. Just hiring an engineer is not fruitful, as opposed to hiring the right engineer for the job. This includes an identification of the responsibilities and qualifications and then matching the job description with an equal salary. Recruiters must be thoroughly aware of the skills they are searching for, and accordingly, match profiles with the right candidates to better streamline the hiring process. Rather than having a homogeneous pool of prospective candidates, it is up to the recruiter to segregate engineers based on their qualifications and how best they can live up to carrying out tasks.
Many organizations go after "more experienced candidates." However, it is not necessary that engineers with more experience fit the job better. Recruiters fail to appeal to younger demographics without realizing that this target group can better understand the changing face of digital and IT business and be better equipped to handle practical tasks. Younger engineers often have more enthusiasm and the thirst to learn and prove themselves, contributing to an improved organization with healthier competition.
2. Competing in an evolving market
According to a senior recruiting specialist at a top healthcare technology company, one of the biggest challenges faced when recruiting engineers is competing for talent not just with larger organizations but with smaller startups. With the way the job market has evolved, thousands of smaller companies and startups are dotting the tech circle – and most of them are formed by people who have gained experience from and broken away from larger organizations. Startups are willing to offer engineers a lot more perks and benefits, including a proper work-life balance, making it even more difficult to recruit them.
Some recruiters also face the challenge of making the organization stand out in front of a potential candidate, leading to candidates choosing other organizations over the one they are specifically being recruited for. Competition can lead to the company losing out on internal resources. Thus, instead of aggressively looking out for candidates, recruiters should zone in on potential candidates and follow up with them in order to convert and hire.
3. Investment for conducting technical interviews
Hiring an engineer requires multiple rounds of interviewing over a span of days and weeks. From understanding technical skills to even conducting cultural fitness tests, one needs to be doubly sure before sharing an offer across. The investment required in conducting technical interviews covers –
Not all people who are interviewed are hired for the job. However, an evaluation is required to be conducted at all levels. This involves significant use of resources that do not necessarily have a return on the investment made. Thus, with companies that don't have large budgets for comprehensively conducting interviews leading to the selection process, hiring an engineer can be difficult.
Moreover, sometimes recruiters take time to conduct rounds of technical interviews and spend money on potential candidates, but because of the time taken, candidates are often picked up by other recruiters or companies – leading to a complete waste of the company's investment.
4. Matching salaries
Presently, the average salary for hiring a software engineer in the US is roughly USD 150,000. With the cost to the company being so high and companies downsizing and restructuring, hiring top talent and quality becomes a considerable challenge. Due to the COVID pandemic, many companies are facing cash flow losses, leading to a cut in salaries across departments within the organization. However, at the same time, work is increasing, leading them to retain quality engineers – at a cost. This is leading to companies losing out on good talent.
5. Information on Candidate profiles
Employers and recruiters often fail to gather enough information about candidates. While candidates submit resumes to companies, these are often not enough to get a complete assessment of a candidate's background. In order to find out exactly what a candidate's past profile is, get references from their past professional environment, and understand their academic background, recruiters have to spend hours cross-checking information manually. Some recruiters resort to using automated software and tools to gather this information, allowing companies to save on time and resources.
Using Adaface to improve tech hiring
Convert engineering hiring from a challenge to an opportunity to grow your organization better with Adaface. Source the right hires to build your organization's engineering capabilities and drive it towards improvement. Adaface helps recruiters save time, money, and effort in putting together the best engineer profiles for recruitment.
From front end developers, back end developers, mobile developers, full-stack engineers, Adaface offers custom assessments for all your tech roles – and offers recruiters with digitally generated test reports to make hiring decisions. This allows recruiters to filter out candidates from a homogenous pool, based on their abilities, so that recruiters only spend time pursuing candidates that are a right fit for the job.
Resources:
https://www.theladders.com/career-advice/the-biggest-hiring-challenges-were-all-facing-today-according-to-15-hiring-experts#:~:text=%E2%80%9CThe%20biggest%20challenge%20in%20hiring%20today%20is%20that,process%20along%20with%20assessments%20for%20skills%20and%20personality.
https://www.usemultiplier.com/blog/challenges-of-hiring-a-remote-team
https://www.adaface.com/blog/tech-hiring-challenges/
Hiring challenges
In fact, our survey revealed that nearly half (43%) of employers say their biggest hiring challenge is receiving too many unqualified candidates on their job posts. Another 21% of our survey respondents say their #1 hiring challenge is not receiving enough applications.*
Top Recruitment Challenges in 2022
The employment market has yet to recover from the pandemic's impact, and we're already planning for another year – one that will likely be no easier than the previous 18 months. Many firms are finding it more difficult to discover, hire, and keep talent as unemployment rates rise throughout the world. In this article, we have listed the top recruitment challenges in 2022.
One of the most hotly debated recruitment concerns in recent years has been the skill shortage. Many businesses are having difficulty filling open positions, which results in revenue loss. According to Korn Ferry's detailed analysis, more than 85 million positions might remain empty by 2030. And it's not because of automation or the replacement of those occupations by robots. It's because there won't be enough qualified people to fill the positions. This is one of the main recruiting challenges organizations face.
Hire internally
Sometimes the right talent you need is right in your own firm, closer than you realize. If you're having trouble filling a position and can't seem to locate the appropriate person, take a look at your own personnel. Internal hiring are 1.7 times less expensive than external recruits, and the promotion will encourage staff even more. You'll also save money on onboarding. However, there is a flaw with this method. You risk creating an echo chamber and missing out on variety if you misuse it. As a result, it is advised that you use it with caution.
If you don't provide internships on a regular basis, now is the time to start. Many recruiters claim that determining whether or not a prospect can execute the job before hiring them is difficult. Why not put the skill to the test? Offering internships at your firm helps you to test individuals before hiring them and, more crucially, allows you to attract skills you would otherwise ignore.
Solid outcomes need long-term planning. And, if you want to ensure that you acquire, retain, and hire fresh top people, your recruiting team must incorporate long-term programs into their hiring procedures. Because the skills scarcity is only going to become worse, develop methods that will help you combat the problem.
What Regional Growth Really Means for Hiring
Continued growth means that talent recruiting, acquisition and retention will remain a major challenge among companies competing for the skilled workforce required to fuel and sustain growth in the next decade. Workforce and talent issues were a hot button topic throughout 2019 and will continue to be a flashpoint for companies in the region. The BHRC is globally renowned for its highly educated and highly skilled talent pool; however, as the region continues to grow at a rapid pace, talent-related challenges will be exacerbated.
Poaching: Companies of all sizes will experience greater competition for regional talent which will increase the amount of poaching of employees from neighboring companies. , The biggest issue with the increase of poaching is that it signals that new talent isn't being added to the market — it's just changing hands. The cluster doesn't actually grow, because new job openings aren't actually being filled, they are just shifting from one company to the next. Poaching is also a big factor that leads to many of the other challenges listed below.
Job Hopping: The frequency that employees change companies will also increase, which will reduce the time that skilled, experienced employees remain at a company, limiting the impact they can have. This type of environment not only costs companies more money but it stunts overall efficiencies that they can achieve because they are constantly recruiting, hiring and training for the same roles.
Compensation inflation: The battle for talent will also drive up wages, bonuses and overall compensation package value as demand continues to grow, poaching increases and the supply continues to shrink. Hiring and retaining your employees will become much more costly as the bigger, better-funded companies inflate their compensations to win over the talent they need to grow and make it even harder for the smaller companies to succeed. One only has to look to Boston or the Bay Area to see how this dangerous cycle results in a higher cost of doing business that touches everything from rent prices and facility costs to company operating costs and the rollover into higher costs for the hundred of products and services companies need to succeed.
Relocation: Increased competition for talent will force BHCR companies to recruit talent from other biotech clusters and be more open to remote and more decentralized work environments. Many companies have survived with a predominantly regional recruiting strategy and will have to rethink their hiring models. Many will also have to consider remote work opportunities for their employees. Clusters that can collectively articulate and market a more compelling story that showcases their region as an ideal location for relocation will be in a better position to attract talent.
Talent Development: The increased demand for talent combined with low unemployment, a growing skills gap, a retiring baby-boomer population and an industry growing on the foundation of rapidly evolving and novel technologies will cause almost every company to rethink its talent development strategy. Companies simply will not be able to meet their workforce requirements without better, more proactive, strategies for workforce development, training and re-deployment of existing employees.
Small Business Squeeze: As all of these factors begin to compound within a regional cluster, many of the businesses will have the financial resources and market position to respond and remain competitive. However, many will not. Your small, privately held biotechs and contract labs, nonprofits and early-stage or slower-growth startups simply won't be able to attract the talent they need to survive. The weight of it all will cause many companies to eek along for a time until they are forced to seek a strategic acquisition or fold and go out of business. Since small businesses and startups are so crucial to an innovation economy, this can have a detrimental impact in the long run.
These current and future workforce issues require solutions built around recruiting, acquisition and retention strategies that benefit both individual companies and the region as a whole. It also means that the major ecosystem support organizations like Universities, incubators, Economic Development Agencies, and Associations all need to look towards new, and more proactive solutions to solve these talent challenges. Doing things the way they have always been done simply won't work anymore.
Challenge #3: Not enough time to devote to the hiring process
There are many steps involved in the hiring process — from candidate sourcing and outreach to reviewing stacks of resumes, scheduling interviews and offer negotiations. Many of these tasks are repetitive and time-consuming, and carving out enough time for them can be difficult, especially if hiring isn't your only responsibility.
In fact, 27% of the 250 employers we surveyed ranked "not having enough time to pay the attention they'd like to the hiring process" as one of their top three hiring challenges. Another 21% of the employees we surveyed say their top recruiting challenge is receiving more job applicants than they have time to adequately review.* If there aren't enough hours in your day, try these three strategies to work smarter, not harder.
Outsource hiring tasks
Since hiring can require a significant time investment, consider outsourcing your recruiting process. For instance, you can hire a third-party recruiter or headhunter to perform a variety of hiring tasks, such as sourcing, screening and interviewing candidates. These professionals often have access to a variety of talent and the tools and connections to find you a great fit for your open role.
Indeed Hire is an option you may want to check out if you need someone else to do the heavy lifting. A pay-per-hire recruiting service that balances automation with experienced hiring specialists, Indeed Hire provides a quality candidate in just three days, on average.** Give it a try.
Ask employees for referrals
If you'd prefer to keep hiring in-house, another strategy to try is an employee referral program. When your current employees do the work of sourcing new candidates for you, you'll spend less time on outreach activities and more time connecting with top candidates. Referrals are also a great source for above-average candidates. An Indeed survey showed that 74% of employers say candidates sourced from employee referrals are "extremely qualified" for the role.***
To encourage successful referrals, sit down with your current employees and instead of asking "Do you know anyone who's looking for a job?" ask, "Who would you work with again?" Additionally, consider offering a referral incentive — companies typically offer employees between 800,000 to $5,000 for each referral that gets hired and completes at least three or six months on the job.
Rethink your screening process
For time-strapped employers, sourcing candidates isn't the only major pain point. Screening and evaluating applicants can also be a huge time suck — from reviewing resumes to conducting phone screens, interviews and reference checks. An applicant tracking system (ATS) can help automate some of the steps in the screening process by parsing resumes for you. However, resumes don't always tell the whole story.
When you post your job on Indeed, you can add skills tests and automated screener questions to learn more about your candidates without adding more tasks to your plate. You can then filter candidates based on their test scores and answers to your "deal-breaker" questions. After you've narrowed it down to your top candidates, you can also conduct virtual interviews right on Indeed so you don't have to coordinate time and place.
Hiring can be challenging no matter the size of your business. However, many small businesses don't have a dedicated hiring team, making it hard to find time to complete all the steps in the hiring process, stand out from competitors and choose the right hiring tools to attract quality candidates.
Resources:
https://www.linkedin.com/pulse/top-recruitment-challenges-2022-teleport-manpower-consultant
https://biobuzz.io/hiring-during-a-biotech-boom-the-talent-challenges-facing-companies-across-all-markets/
https://www.indeed.com/hire/c/info/top-3-hiring-challenges
Hiring challenges
On the other hand, some industries, such as health care and logistics, are facing a sudden need for a huge number of new employees. However, those who continue to recruit in a time of coronavirus have to apply different methods and change the way they recruit to stay safe and compliant. 😷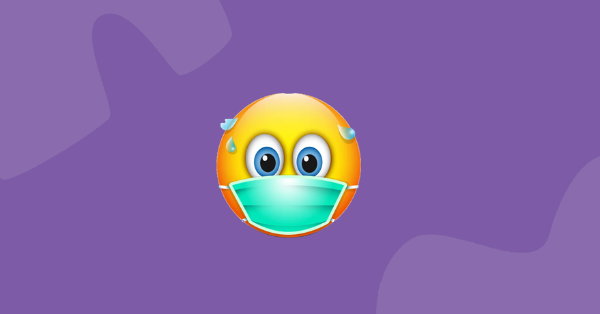 How Businesses Can Tackle Seasonal Employment Challenges
If your business operates its onboarding based on busy periods, odds are you are familiar with the process of hiring seasonal staff. Unfortunately, seasonal employment isn't always easy and can come with its challenges. Within this resource, we will discuss seasonal employment and explain the best methods employers can practice to combat the obstacles involved with seasonal staffing.
Seasonal employment is a process that describes the hiring of staff members to perform temporary work during a specific period of time. According to the Internal Revenue Service, a seasonal employee is "an employee who is hired into a position for which the customary annual employment is six months or less and for which the period of employment begins each calendar year in approximately the same part of the year, such as summer or winter."
Seasonal employment hiring practices are usually utilized by jobs that have "busy periods" of time where they have more business and need more support from staff members. For example, a ski resort may hire seasonal staff to work during the winter, which would be their busiest period. Another example could be a summer camp employing workers to act as camp counselors during the summer season, specifically the months when campers would be out of school on summer vacation.
Seasonal employment is temporary and can often occur even for businesses that operate all year round yet require more workers when they are busiest. An example of this would be retailers. While a retail business may be open year round, it can practice seasonal employment by hiring more temporary, seasonal retailers during the holiday seasons when they need more help.
Recruiting in time of COVID-19: Key challenges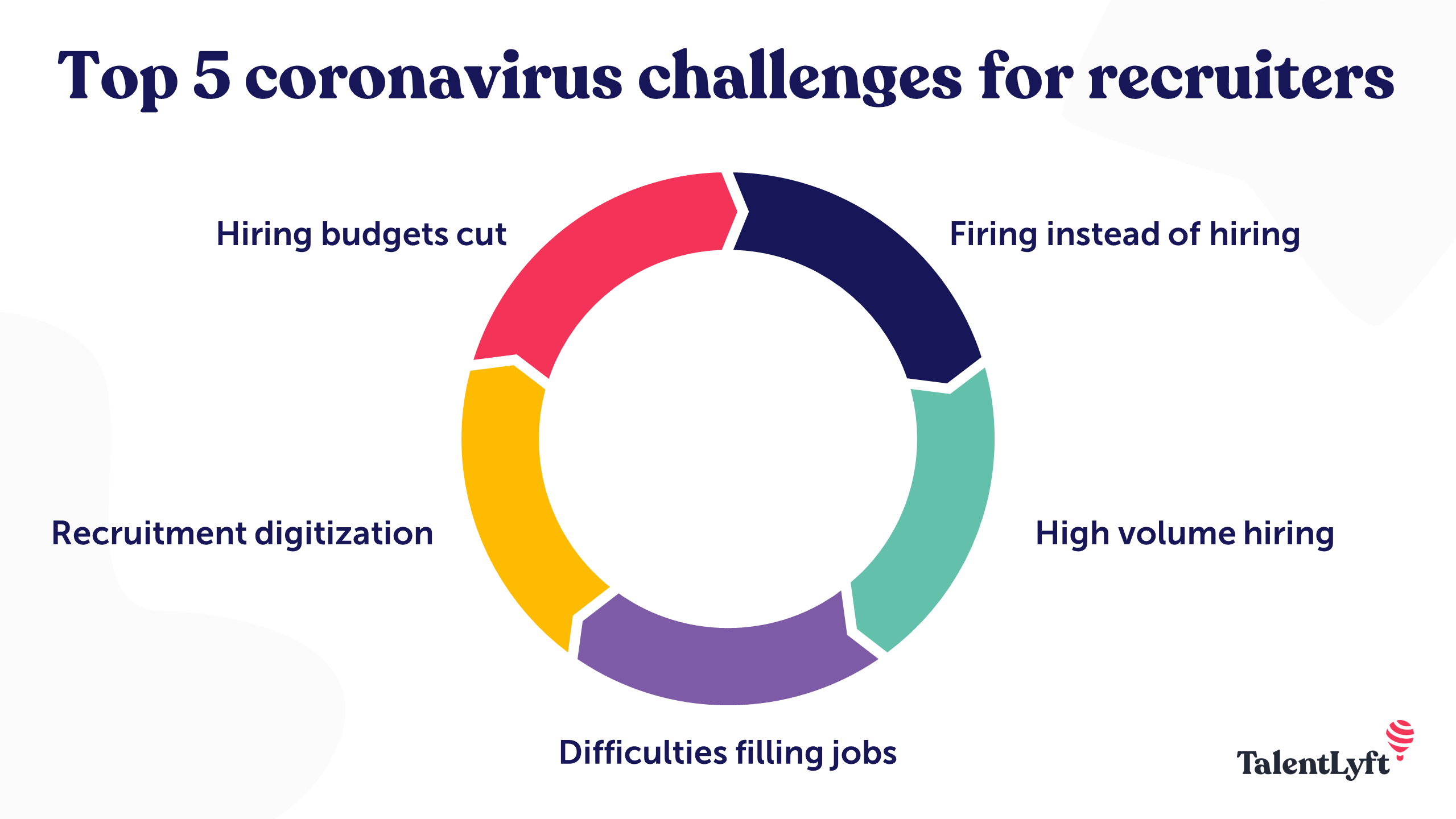 Challenge #1: Companies are firing instead of hiring
The biggest challenge in the recruitment industry right now is quite obvious: Some companies are firing instead of hiring. According to recent research from global risk management and advisory firm Willis Towers Watson, 42% of surveyed organizations have frozen or reduced hiring.
Instead of hiring new employees, they are forced to fire their existing employees due to the coronavirus crisis. 😟However, I said "some companies" because certain industries have been struck down especially hard by the coronavirus pandemic. Industries that are more susceptible to coronavirus economic impacts than others are: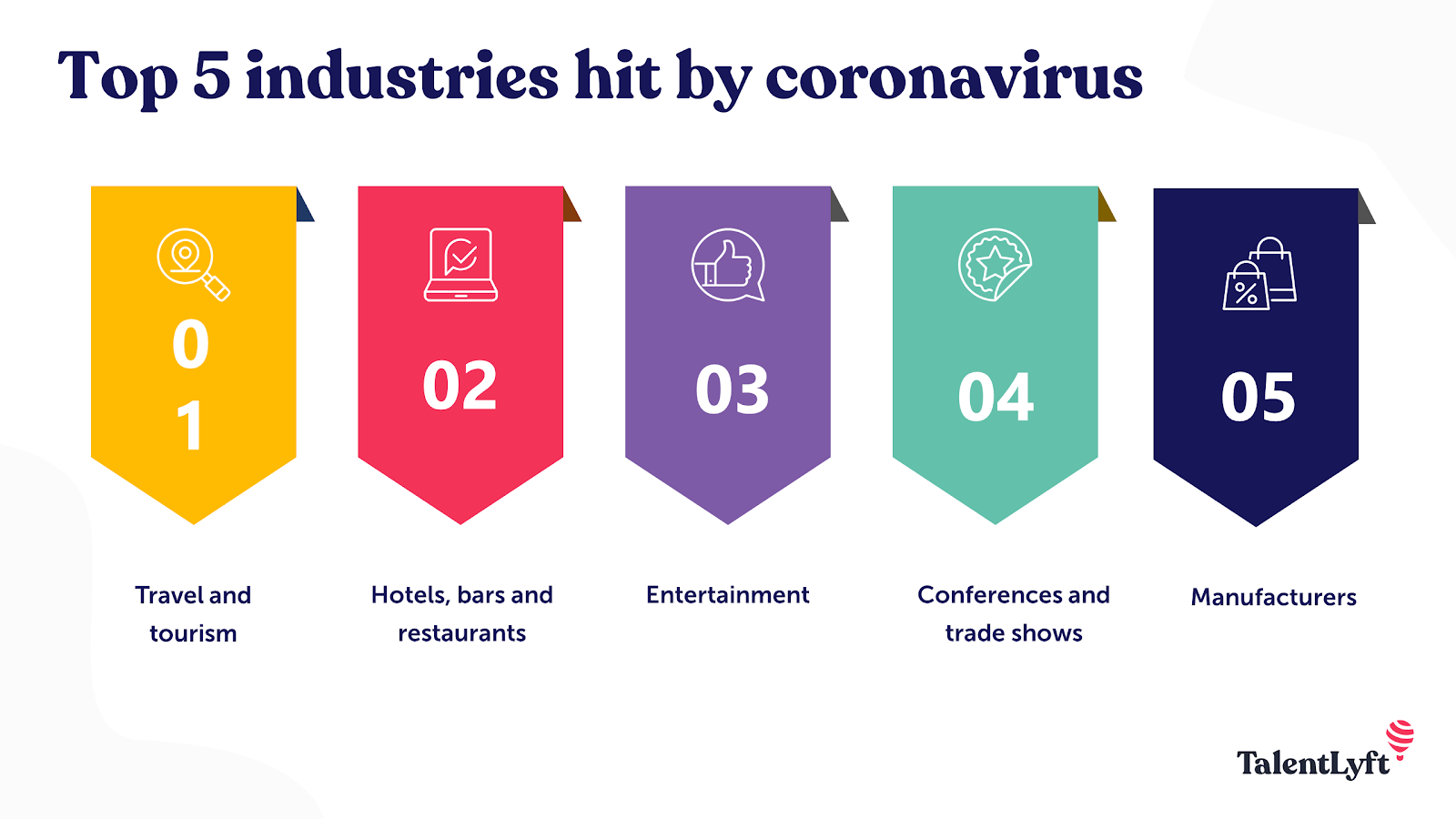 The first rounds of layoffs have already started in those industries. Companies from other industries have mostly imposed hiring freezes, according to USA Today. They have put hiring on pause and they are waiting to see what will happen and how the situation will evolve in these uncertain times.
Many people will be laid off due to the coronavirus crisis. Some of the fired employees were A-players and top professionals in their field. This is your chance to get in touch with them and help them find a new position they'll love.
Challenge #2: You need to deliver a high volume of candidates for certain positions
While the coronavirus crisis is fatal for the above-mentioned industries, it offers a sudden opportunity for certain other industries. Some companies are in need of additional workforce in order to support the growing need for their services.
For example, job openings for cleaners are shooting through the roof. Coronavirus is causing a 75% spike in demand for new hires in this sector, according to the online jobs marketplace ZipRecruiter. Postings for work at hospitals and other health-care jobs have also risen by 35%, according to LinkedIn's report. 📈
The world's largest retailer Walmart said that the demand for everyday goods such as food and house essentials had surged to the point that they need to hire 150,000 workers to handle it. Amazon is also raising wages and opening 100,000 new positions to ensure its delivery network can withstand the coronavirus pandemic.
Challenge #3: You have difficulties getting applications
If you're working in a company that is continuing working relatively normally and you haven't imposed a hiring freeze, you'll probably have difficulties filling your open positions, especially those that were already hard to fill before the coronavirus pandemic.
In February 2020 there was a 47% reduction of applications on average across all industries compared with February 2019, according to WaveTrackR's report. This reduction is expected to grow even more over the next few months. 😱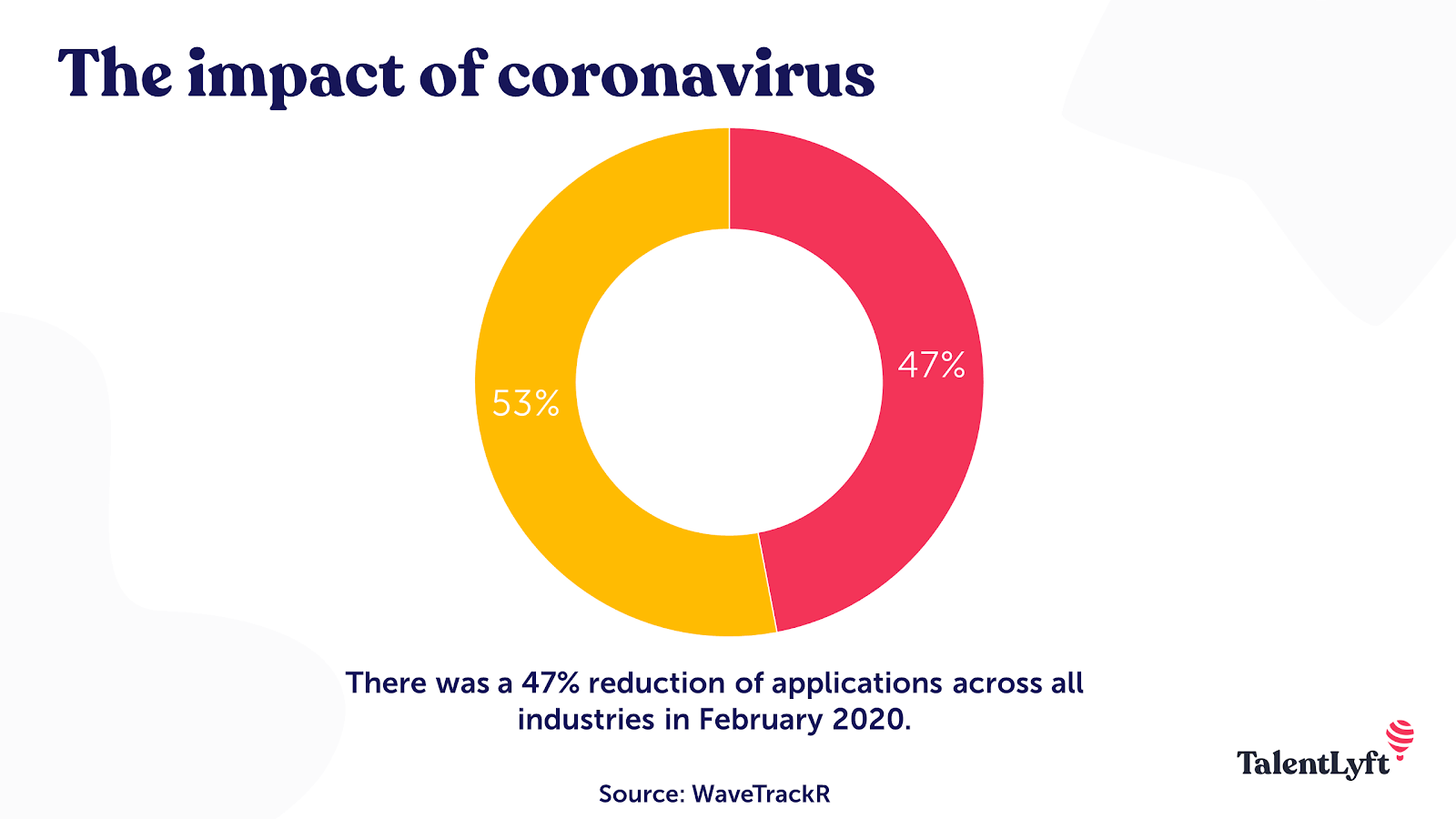 Why is that? In the tome of instability and crisis, people are reluctant to make big life changes, such as changing jobs. Similar to companies, candidates are laying low, waiting to see what will happen. They prefer to stay in the security of their current job in uncertain times.
Yes, people are reluctant to change jobs right now. On the other hand, the coronavirus pandemic may have at least one part of the recruiters' job simpler – reaching candidates. You may be surprised to find out that it is actually easier to get hold of many candidates in the time of coronavirus pandemic.
How can this be? Well, before the coronavirus crisis, they were busy all the time: they were in meetings, walking factories or flying somewhere. But now, they are stuck at home, bored and waiting at the end of their mobile phone. Maybe even worried about keeping their job.
Challenge #4: You need to digitize your recruitment process ASAP
The coronavirus pandemic outbreak has completely changed the way we live and work. Offices are closed and we are all working from home – remotely. HR professionals and recruiters who want to survive this crisis have to adapt – and they have to do it quickly. ⏱️
Start by making an audit of your recruitment practices. Examine your entire hiring process and identify areas that aren't digital. Then find ways to make them work online. Luckily, you have a wide range of recruitment tools to support you.
Volatile Market
In the recruitment space, there's always discussion about whether it's an employer's market or a candidate's market. While most assume that the current recession means that it's an employer's market, leaning back on this mindset will cause recruiters to miss out on key talent that will bring in and boost revenue.
This recession looks different than those of the past. Many jobs have gone unfilled due to workers avoiding high-risk roles that could potentially put them in contact with Covid-19, according to the Harvard Business Review. In addition to that, jobs are also bouncing back much faster than we typically see in these scenarios. There's also been a shift of families moving away from the areas with the biggest hiring needs.
Most notably, unemployment rates are peaking, yet job openings continue to remain at unmatched highs. Despite the economic crash, candidates are carefully shopping for jobs – not just taking the first job that comes their way. This is a recruiting trend that we will continue to see, so recruiters must do everything in their power to attract the right talent and retain them, which is no easy feat.
Resources:
https://adia.works/blog/seasonal-employment/
https://www.talentlyft.com/en/blog/article/369/5-key-recruitment-challenges-caused-by-coronavirus
https://oorwin.com/blog/6-major-challenges-recruiters-face-in-2021.html